Building Energy Management Control System
Master Building Control System (MBCS)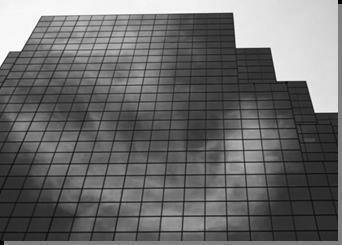 The Master Building Control System (MBCS) is the primary control component of our Building Energy Management Control System (BEMCS) for controlling large numbers of SPD Smart Glass Windows. Resolution connects to the Wireless Mesh Network that communicates to SPD Smart Glass window controllers. The following diagram shows the relationship between controllers, wireless network and the Master Building Control Systems.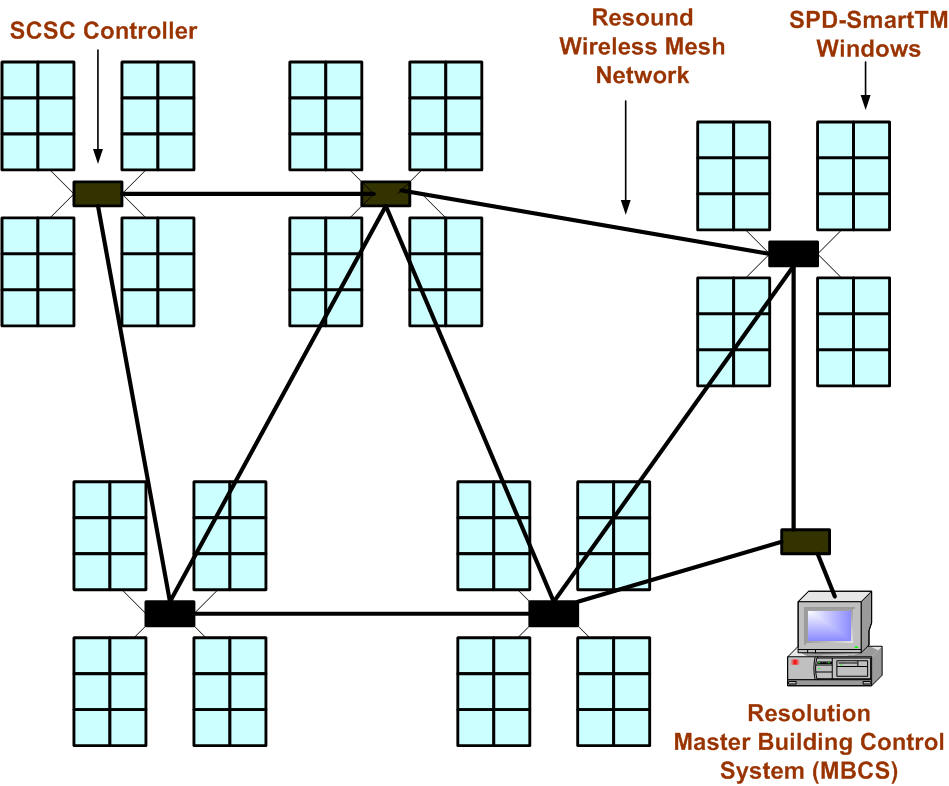 <![if !vml]>

<![endif]>
The MBCS is the "brains" of any intelligently controlled set of smart windows and it is offered to support multiple configurations: from small installations in residential homes to large scale high-rises. A basic MBCS might only use the input from remote photocells along a common face of a structure to determine which windows should be set to what level of transparency on a continual basis. It incorporates date/time information, geographic location and the current position of the sun across the sky relative to the orientation of each window to determine the optimal tint setting for the time of the year..
The MBCS also maintains configuration information, collects statistical data, monitors operations, reports glass breakage messages that are sent from individual controllers, helps determine if portions of the wireless network aren't communicating in a way that requires the placement of transceivers to get around dead spots, maintains and executes customized "glare" programs to address glare issues during specific dates and times, among many other functions. The MBCS supports multiple operating consoles and report printers to support its operations.
MBCS
Brochure
Features
- Maximize energy conservation
- Daylighting (maximize natural light to minimize internal lighting)
- Glare reduction
Autonomous intelligent window tinting control based upon solar conditions and façade modeling

Synchronized window tint changes (all windows change at the same time)

Automatic flicker prevention (avoids windows changing too frequently)

Control the ability to manually override automatic controls on a window by window basis

Control the extent of manual overrides: min. and max. window tint

Update window controllers with new firmware and control parameters individually or at the same time.

MBCS operator can override automatic settings for specific sets of windows

Animated graphic displays using each window as a pixel

Interfaces with third party Building Control Systems

Interfaces with security systems

Comprehensive windows and system diagnostics, maintenance services, and reports

Redundant servers (optional) for reliability and availability

User control of the MBCS can be done:
- Locally
- Via the Building LAN or
- Via the Internet for remote monitoring
Services
Automatic building window control Window tinting control based upon solar conditions and façade modeling
Synchronized window tint changes All windows change at the same time
Automatic flicker prevention Avoids windows changing too frequently
Override automatic controls On a window-by-window basis
Control manual overrides Set min. and max. window tint values
Maintenance services Diagnostics, maintenance services, alerts, and reports.
Alerts include:
· Non-communication with controller
· Window breakage alerts
· Signal strength alerts
· Low emergency back-up battery alerts
· Low voltage alerts
Status / Statistics Reporting Displays and report status of the window by individual
windows, groups, floors, offices, etc. Keeps history of status information for statistics reporting.